(Narrative Design + Social Change)
Selected – Chronological | By Type
(currently being updated)
In Progress: Craft + Change book
In Progress: Emancipatory Narrative Design book
In Progress: Cross-Media Design book
2023
"Into the Spider-Verse: (Side)Setting the Scene for Social Change": Craft essay on the feature film Spider-Man: Into the Spider-Verse for the British Science Fiction Association's journal Vector.
"Once Upon An Alternate World": Personal review craft essay on Quentin Tarantino's Once Upon a Time…in Hollywood for Randon Billings Noble's publication After the Art.
2022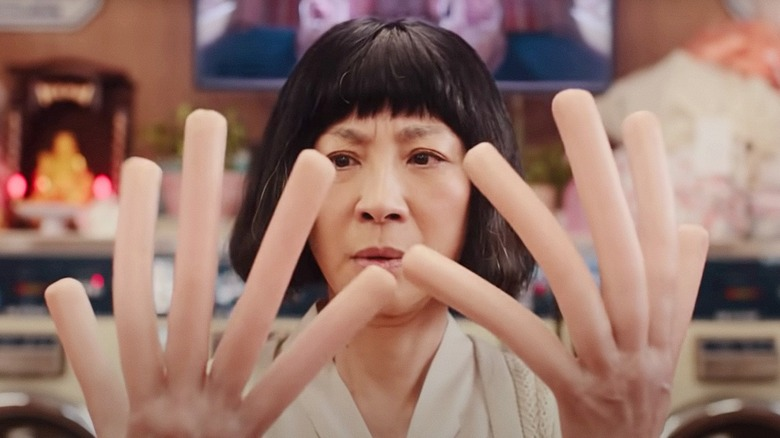 "A Journey to the Narrative Design of Everything, Everywhere, All At Once": Personal review craft essay with Yen Ooi for the British Science Fiction Association's journal Vector.
 "Unmastering the Story of Change," Facilitator, School Revolt!, Anarchist Pedagogies Network, March 5th [remote].
2021
Transmedia and the Pluriverse: Narrativas seriadas journal article version of the talk.
Right Relations in Creative Practice & Pedagogy: Preparation reading for a co-run online course 'The Artist as Teacher'.
Can't Sell This: Podcast interview on interactive storytelling.
2020
Expanding Our Sense of the Possible with Narrative Design: Talk at Story Hack on how narrative design can encourage positive alternate presents and futures.
Platforms for the Distribution and Experiencing of Digital Works: Talk for the Australia Council for the Arts
2019
Transmedia and Adaptation: Revisiting the No-Adaptation Argument: Invited book chapter in The Routledge Companion to Transmedia Studies, edited by Matthew Freeman and Renira Rampazzo Gambarato
Telematic Studio: Co-run online interdisciplinary studio to facilitate a co-nurturing parallel development environment.
Designing for audience transformation: Podcast interview about the limits of the the transformational arc on The Evolving Media Podcast.
2018
'How Creative Processes Are Adapting To Change The World,' Journal of the Spanish Communication Research Association, 5 (9), 1-9. DOI: 10.24137/raeic.5.9.2.
Forward Slash Story: Co-run interdisciplinary international lab where the emphasis is on nurturing the creatives and their communities.
ExLab Reflection: Reflection on the Extended Experiences Lab I designed and ran for films at the West End Film Festival.
The Secrets to Creating an Indie Game Franchise: Talk at GDC about the design of what I call cross-media promises.
Worldbuilding Our World: Talk at Sweden Games Conference on how our creative projects play a role in shaping our reality.
2017
Finding a Way: DiGRA journal article about techniques to bridge the schism in narrative design with objectives and first-person learning.
Crafting Intangibles: Organised a hybrid online/local conference on interactive narrative design with speakers from around the world.
A Narrative Designer's Experience of Amazon's "The Man in the High Castle" Resistance Radio Campaign: Piece on the design of a branded campaign.
Playing the Game of Legacy: Review of Bernie De Koven's final game gift to the world.
2016
Christy Dena interviews Eric Zimmerman: Commissioned interviewer for Cordite Literary Review.
Transmedia Teen: Invited contribution to the special issue of Immerse.
2014
'Transmedial Fictions': Invited encyclopedia entry in Marie-Laure Ryan and Lori Emerson, Benjamin Robertson, eds. The Johns Hopkins Guide to Digital Media Baltimore: MD, Johns Hopkins University Press.
'Transmedia as "UnMixed" Media Aesthetics': invited book chapter in Deb Polson, Ann-Marie Cook, JT Velikovsky, Adam Brackin, eds. Transmedia Practice: A Collective Approach Inter-Disciplinary Press.
2013
Emotion and the Self in Games: Commissioned article for Cordite Literary Review.
2012
The Scaredy Cat Factor: Commissioned book chapter for The Emerging Writer: An Insider's Guide to Your Writing Journey, edited by Karen Pickering, published by the Emerging Writers' Festival.
2011
Transmedia Victoria: Commissioned organiser of an international conference and workshops event bringing together film, TV, and games creatives.
2009
Transmedia Practice: PhD on situating the differences in understanding and making multi-artform projects. University of Sydney. (unpublished)
2008
Emerging Participatory Culture Practices: Convergence journal article on the ways in which what players and fans create are the main experience of creative works for most people.
The Who, What, When, Where, Why & How of Cross-Media Entertainment: Talk for DIYDays.
Should We? Could We? Would We?: Keynote talk at Power to the Pixel, London Film Festival.
The Writers' Guide to Making a Digital Living: Co-written ebook with Theresa Fingleton and Jennifer Wilson, commissioned and published by the Australian Literature Board.
New Writing Universe: A chart of all the interactive storytelling terms I found as of 2008.
2007
'A Quick Primer on Alternate Realities' in Friedrich von Borries, Steffen P. Walz and Matthias Bottger (Eds), Space Time Play: Synergies between Computer Games, Architecture and Urbansim, Birkhauser: Basel, Boston, Berlin.
Patterns in Cross-Media Interaction Design: Proceedings article on the various elements to consider in the cosmology of cross-media design.
2005
Elements of Interactive Drama: Performance Paradigm journal article on an early web-based drama.
===
Playful Testing: Piece about letting testers play with your design
Playing Kandanga: Piece about the design of a commissioned community arts recovery project where I worked with the town of Kandanga archiving their play through generations
Adapting the "Hierarchy of Understanding" to Games: Piece on designing the onboarding experience in games
Design Cross-Section: Peice about a narrative design method to combine multiple narrative and real world structures
Making Mechanics: Piece about the different ways we can design mechanics
Narrative Design Testing: Piece about some of the things I find I continually need to test for in other people's work and my own
ARG Around the World: My research into alternate reality games and the communities happening around the world in the early days
ARG Design Charts: My research into design charts used in alternate reality games in the early days