This resource shares information about alternate reality games (ARGs) — the countries their players participate from, multi-lingual and non-English ARGs. This page is a compliment to the existing ARG Stats page.
Due to the use of the Internet being a main feature of most ARGs, they are usually collaboratively played by people all over the world. Despite the global nature of the format, though, there is little information about the ARGs and their players in countries other than the USA, UK, Canada and Australia. What is needed is data about ARGs created in *other* countries, cultures and non-English languages. This resource doesn't provide all of these answers. But, after some lengthy scurrying around the web and with the help of some committed folks, we now have a lot more than we did before. When researching this resource I approached many people, but I especially want to thank André Sirangelo (Brazil), Annika Waern (Sweden), Érica Benites Manssour (Brazil), Geneviève Cardin (Canada) and Patrick Möller (Germany) for being so generous with their information and time. This resource provides stats about:
English-language ARGs — player countries;
English-language ARGs — multi-country design;
English-language ARGs — localized by producers or players;
Multilingual ARGs;
Non-English-language ARGs (mono-lingual); [next page]
Summary of ARG communites around the world [next page]
COUNTRY STATS FOR ENGLISH-LANGUAGE ARGS
There is very little publically-available data available on the demographics of ARG players, but the following information from English-language ARGs reveals the extent to which players from other countries are engaging with English-language ARGs:
Perplex City (2005-2007)
Live events for Perplex City were, due to legal competition restrictions, based entirely in the UK. The stats of their players, nevertheless, was UK: 50%, US: 41%, Canada: 3%, Australia: 2%, Germany: 1%, Other: 3%. [Full stats on Perplex City]
Source: Hon, A (2007) 'How to Make an Alternate Reality Game or Perplex City: A Look Behind the Scenes', Google Tech Talk, 5th March [Online] Available at: http://video.google.com/videoplay?docid=-6352536437357912484&hl. Last Accessed: 30th Oct, 2007.
MeiGiest (2007)
The independent UK-based ARG 'MeiGeist' was created Hazel Grian as part of her placement in the Arts Council of England Interact programme Diffraction. Upon completion Grain surveyed thirty of its players and they reported being from: USA: 47%, UK: 44%, Canada: 6%, and Germany: 3%. [Full stats on MeiGiest]
Source: Various (2007) 'Meigiest Placement and Research Report', Diffractions Report [Online] Available at: http://www.ished.org.uk/wp-content/uploads/2007/06/diffractions-report-final.pdf [pdf ] 
World Without Oil (2007)
Players of World Without Oil were invited to report where they were blogging from. Those that did indicated they were from: Afghanistan, Algeria, Argentina, Austria, Bangladesh, Belgium, Bermuda, Bolivia, Cameroon, Chile, China, Colombia, Croatia, Czech Republic, Dominican Republic, Ecuador, Egypt, Estonia, Finland, Hong Kong, India, Indonesia, Ireland, Israel, Japan, Malta, Mexico, New Zealand, Pakistan, Peru, Philippines, Portugal, Puerto Rico, Russia, Singapore, Slovakia, South Africa, Spain, Sweden, Switzerland, Syria, Taiwan, Turkey, Uganda, Ukraine and United Arab Emirates. [Full stats on World Without Oil]
Source: Eklund, Ken (2008) 'Re: Update for World Without Oil ARG Stats', personal email to Christy Dena, 4th March.
ENGLISH-LANGUAGE MULTI-COUNTRY ARGS BY DESIGN
Despite the fact that most ARGs are played by players from around the globe, most real world events, are designed for those in certain locations in the USA and UK. To address this issue of access, some ARGs have flown players to real world events (Art of the Heist, for instance, flew players across the US) and others have created real world events in different locations within a country and across countries. The following are examples of ARGs that have provided unique experiences (real world events) and content (unique clues) for players in different countries.
I Love Bees (2004)
I Love Bees (42 Entertainment, 2004) was (among other things) a radio drama delivered through fragmented sound files that were released one-by-one to the players as they answered over 1,400 payphone, in over 50 states, in eight countries. Once a call was answered and a challenge was successfully completed, an 'axon' (sound file) was unlocked for the players online. [Full stats on I Love Bees]
Source: McGonigal, J. (2005b) Alternate Reality Learning, Creative Design panel at the E3 Education Arcade, Games in Education Conference, Los Angeles, 16 May, video published @ Education Arcade; pdf of ppt available at avantgame.com
The Lost Experience
The Lost Experience (ABC, 2006), provided unique clues to players by the ABC in the US, Yahoo!7 in Australia and Channel Four in the United Kingdom. There were also chocolate bars to be given away, for instance, that each country producer designed a real world event to give them away through. [Full stats on The Lost Experience]
Vanishing Point
While Vanishing Point (42 Entertainment, 2007) may not necessarily be regarded as an ARG, it is worth noting the clues were distributed at live events in Washington, California, Canada, England, Germany, Singapore, Arizona, Texas, Florida, Australia and Nevada. In most cases the players just had to be at a certain location at a certain time to view some small, but vital, piece of information that then unlocked a puzzle box. Event 2, for instance, had players in Los Angeles, California, Miami, Florida, Sydney, Australia and Phoenix, Arizona witness and photograph skywriting.  Event 3 had players attend to a projection in Singapore, Berlin, London, Toronto and San Francisco to unlock another puzzle box (see photo). [Full stats on Vanishing Point]
[Photo of Victoria Theatre & Concert Hall, Singapore, sourced from: http://vanishingpointgame.com/projections.htm] Â 
LOCALIZED ARGS: PM-TRANSLATED
Most games, whether they are ARGs or not, are usually created in one language and then translated afterwards.
Legend of the Sacred Urns (aka More to See) (2004)
Legend of the Sacred Urns was created for the global launch of Sony's Aquos LCD Flat Panel Television in 2004. It ran for 120 days, across 15 countries with game content translated into six languages (French, Italian, Japanese, Spanish, Portuguese and German). All of the gameplay (forums, puzzles and live events), however, was situated in the USA, where a competition was held (Monello, 2008).  There were over 1 million people who engaged online and Sharp's entire stock sold out at launch. The ARG companies involved were GMD Studios and Haxan (now Campfire NYC). [See design chart]
Sources:
Monello, Mike (2008) 'Re: [arg-discuss] budgets', personal email to Christy Dena, 28th Feb.
'Sharp: More to See', Campfire NYC [Online] Available at: http://campfirenyc.com/category/case-studies/?id=5
LOCALIZED ARGS: PLAYER-TRANSLATED
Large-scale ARGs are almost always in American or British English and are then translated by the players. For example:
German players actively translate English ARGs in the

ARG Reporter

 wiki
Two players of Perplex City,Tuesday's Dusk and Thomas Bookmore, translated the puzzle cards into French 
For World Without Oil, a French player created an entire mirror of the main gameplay site
MULTILINGUAL ARGS
Monster Hunt Club (2006)
In 2006, ARG designer Dave Szulborski of ARG Studios was commissioned by Magnolia Pictures to promote the US release of the South Korean horror film The Host. The ARG, Monster Hunt Club, targeted Korean-American audiences with several techniques. These included:
Featuring a Korean actress as one of the main ARG characters
Her video blog often featured and addressed Korean historical and cultural issues
Incorporated several instances of Korean language, both in the form of recorded videos and written content
Several videos were only in Korean, with subtitles for the English speaking audience
Using genuine Korean artifacts and geographic locations as part of the storyline
The ARG had good results in the known Korean-American target areas of Virginia/Washing, DC, NYC and California in particular, with 'total impressions delivered by the campaign at almost 5 million people' and was an official part of GDC 07. [Full stats on Monster Hunt Club]
Source: Szulborski, Dave (2008) 'Bi-Lingual ARGs', personal email to Christy Dena, 29th Feb.
The Lost Ring (2008)
The Lost Ring (or Find the Lost Ring) is a McDonald's commissioned ARG to promote McDonald's involvement in the 2008 Beijing Olympics. It is created by ARG designer Jane McGonigal (who worked on I Love Bees, World Without Oil and other ARGs) and agency AKQA (who worked on the second Halo ARG Iris). The ARG, which commenced on March 3rd and finished on 24th August at the Beijing Olympics closing ceremony. Some characters awoke in strange countries, and many spoke different languages:
Adriadne = Johannesburg, South Africa — American English
Markus = York, England — German
Diego = Buenos Aires Metropolitan Area, Argentina — Spanish
Noriko = Okayama Prefecture, Japan — Japanese
Lucie = Paris, France — French
Larissa = San Paulo, Brazil — Brazilian Portuguese (?)
Kai = San Francisco, USA — American English
Eli = UK — American English
Monica = Madrid — Spanish
Mei Hui = China — Mandarin
Each of the main characters also had their own website which is styled according to their character (with cultural sensitivity), and their own ingame forum (see picture below).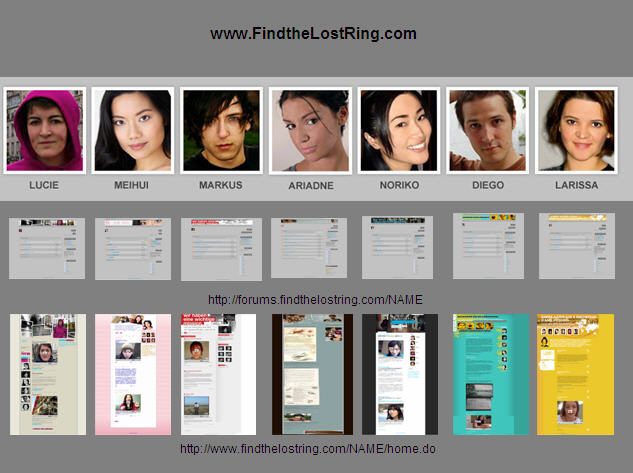 All of these sites are located at the same primary gameplay site: www.FindtheLostRing.com, creating a game hub where players can observe each other. The character Eli Hunt is an historian who has podcast that discusses 'Secrets of the Ancient Games'.   This site is a primary research channel for the players, aiding them in finding the 'secret'. The English-language podcast added subtitles in multiple languages.
[Screenshot of post at 'Secrets of the Ancient Games' with Brazilian Portuguese subtitles, from http://www.thelostgames.com/1/podcast.do]
STATS (all from McGonigal, 2008)
8 languages
Live game missions and events in more than 50 countries on every continent except Antarctica
Top 5000 players came from over 100 different countries
More than 2.5 million people watched the game play out online
Source: McGonigal, Jane (2008) 'We Found the Lost Ring – UPDATED', Avant Game, 24th August [Online] Available at: http://blog.avantgame.com/2008/08/we-found-lost-ring.html.
Check out Non-English-language ARGs and ARG communites around the world in PART TWO