Selected Projects  |  Accolades+  |  Full Credits
(currently being updated)
DIYSPY: Cooperative storytelling game (digital remote released, card game forthcoming) — featured on Mystery Science Theatre 3000, and exhibited at CANCON, PAXAU Collaboratory, CHIPlay Interactivity & Play, GO423, and PopUp Playground. Designed for prosocial play.
The Tour from HELL-o What's This?!: In this serious game, you play a short action adventure involving a Kraken. It is designed to facilitate optional thinking, prosocial relations, and self efficacy. Writer-designer for UniSA Education Futures, University of South Australia.
Magister Ludi: A conceptual digital escape-the-room game about our need to escape (installation + digital app) — commissioned by Experimenta for the International Biennial of Media Art; Official Selection for Parallels (Freeplay Independent Games Festival), Babycastles (NYC), and Contours Exhibition on Australian Independent Games; and Finalist for the WA Premier's Book Awards (Digital Narrative) and the International New Media Writing Prize. 
Forgotten VR: I co-write & designed with Grania Kelly this narrative documentary prototype. It's about the real life story of a woman who died in the Sydney city apartment and wasn't found for nearly 8 years. For StarSapphire Productions, funded by Screen Australia Doc Dev, and selected for AIDC XR Marketplace.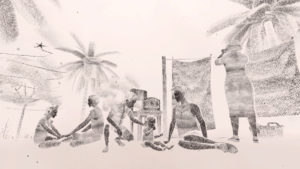 A Thin Black Line: I was Narrative Design Consultant for this animated VR documentary directed by Douglas Watkin, with VR direction by Oscar Raby and art by acclaimed Aboriginal artist Vernon Ah Kee. Covered in Gizmodo, and exhited at Australian VR Film Festival, ACMI: Untold Australia VR Showcase, Adelaide Biennial of Australian Art, and International Documentary Film Festival.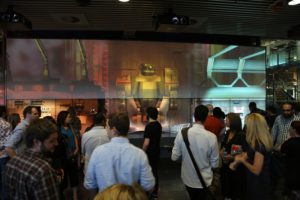 Robot University: Writer-designer-producer-director of this commissioned installation for the Science and Technology Centre, QUT.
Bakers of Anarchy: Writer-designer of this live game commissioned for Pop Up Playground's Fresh Air Festival, ACMI.
Playing Kandanga
AUTHENTIC IN ALL CAPS
Geminoid
Conspiracy for Good
Bluebird AR
The Hunt