I like doing these round ups of the year. I have only been doing them (that I recall) these past couple of years (2013, 2012), but they're a good technique to both reflect and look forward. As I have also done previously, I have categorised the summary of activities. But this year I also add photos at the end.
Creative
Awards & Accolades
It was super surreal winning these awards and having these great Official Selections. I actually debated with myself for weeks (I knew ahead of time) about whether I should even accept the awards. I don't know why, but I see these sort of things as end-of-life events. You know, you've made it when…. It is unanticipated to have these things come my way so early in my career (I was hoping for a nomination). But in the end I have embraced them and take them as a message to keep going, to not give up.
Presentations & Events
I gave the keynote presentation at Transmedia Living Lab in Madrid, Spain. It was a delight catching up with some great colleagues from around the world, hearing what projects they have been working on, and having fun in the streets on Madrid with Mojitos. It was also the first time, I have to confess, that a client flew me business class. I have been travelling long-haul to multiple countries every year for years. I was used to it, I had my frequent flyer injuries, and I knew what to do to make my journey comfortable. But flying business class for long-haul flights is a delight. Besides some luxuries like Bvlgari toiletries, what we had is what everyone flying long-haul should have: good food, pleasant service, comfortable blankets, reclining seats, clean toilets, working TV systems, good headphones, and so on. I really hate that sub par service is the norm. But thank you TLL for the experience.
I ran a Digital Writers Room (workshop) at the South Australian Writers Centre
I ran a workshop on Designing Deep Games for the Western Australian Film & TV Institute. Both of these digital writing workshops are part of a format I have been developing: the digital writers room. It is about peer-to-peer advice with key facilitated learnings. I'm exited about the format and am keen to run more around Australia and overseas.
I was invited to participate in a special game jam for professionals at QUT's The Cube. Morgan Jaffit and I proposed our own idea for a multiplayer game that is sort of a cross between Sifteo cubes, the SIMMS, and adventure game puzzles.
 In May I was flown to the Sydney Bloomberg offices to participate in an Australia Council for the Arts and ABC workshop on creating cross-platform live and broadcast productions. It was there I met
I was a guest on Shift-ALT for State Library of Victoria talking about digital writing
I did guest lectures on Interactive Writing and Transmedia Design for different courses at Griffith Film School
Publications
Published definition for 'transmedial fictions' in The Johns Hopkins Guide to Digital Media (2014) Marie-Laure Ryan and Lori Emerson, Benjamin Robertson, eds. Baltimore: MD, Johns Hopkins University Press
Published chapter, 'Transmedia as "UnMixed" Media Aesthetics', in Transmedia Practice: A Collective Approach (2014) Deb Polson, Ann-Marie Cook, JT Velikovsky, Adam Brackin, eds. Inter-Disciplinary Press
I wrote a long essay on intrinsic design on this blog. I am trying to get back into my blogging and this was a big epiphany post for me. After speaking with some AAA devs afterwards, it was clear they knew about these differences in design but feel they have to use extrinsic to make their games more accessible.
If you want a scan of my contribution to these book publications, just shoot me an email.
Professional Memberships
I became a member of the Australian Writers Guild
I became a member of the Australian Directors Guild
Mentoring/Lab/Host
In May I flew to New York to co-run the first Forward Slash Story lab with Lance Weiler. After years of bubbling the idea and waiting for others to create it, Lance and I got together and jump started a special lab for storytellers working in tech. We had great participants from around the globe come together at a beautiful venue. It was a totally beneficial experience and so Lance and I are excited that we will be running the next one in 2015.
I mentored a Year 11 St Thomas More College female student who wants to study game design (as arranged by Alice). The programme is called 'Becoming M.O.R.E. Mentoring Program' where Local, State & Federal MPs were special guests. My student won the prize for best project.
I also introduced a public lecture series to the SAE Media Institute called 'What I Really Do.' I commission ace professionals to give a talk about what they really do in their work, and make it free to attend to anyone in the community. So if you're ever travelling through Brisbane make sure you let me know (games or not, all artforms welcome).
Press
The Robot Uni installation was featured on Channel 7 morning news.
ABC Radio National, 'Banished, Veronica Mars, and Robophobia' — Cassie McCullogh, The List, 14th March
Blouin Art Info, 'INTERVIEW: Jonathan Parsons on Experimenta "Recharge" and Media Art' – Nicholas Forrest, 5 December 2014
Spook Magazine, 'Future Now: Experimental Media takes over RMIT' – Spook, 12 November 2014
Crikey, 'Freeplay Celebrates with 12 New Home-Grown Games' – Peter Green, 22 October 2014
Time Out Magazine, 'Experimenta Recharge' – Finn Houlihan, 1 October 2014
Fluoro, 'Recharge: Experimenta's 6th International Biennial of Media Art' – 30 Sept, 2014
Game Cloud, 'Designing Deep Games with Christy Dena' – Kirk William, 28 Sept, 2014
if:book Australia – "My Robot's Jam" – Simon Groth and Emily Craven, 17 Feb, 2014
ABC Radio National, 'How ancestors influence your behaviour today' – Waleed Aly, 1 Dec, 2014
Employment
It is weird to have this category, as it is the first time I have taken on full-time employment for over a decade. I took on teaching game design at SAE Creative Media Institute in Brisbane. I have been promoted and am now Senior Lecturer in Game Design, and Unit Co-ordinator in Overview of Industry. With the former it means I run an awesome studio unit teaching game designers 'deep game design,' and with the latter I create the online interactive content and manage the teaching of industry skills (like networking etc) across all campuses in Australia. I am so thrilled to be running a studio unit on deep game design. Basically it includes a lot of what is missing from some undergraduate courses: things like emotional design, personal games, narrative and mechanic blending, and finding your voice. What is even more awesome is the studio-model of teaching. I don't give lectures, instead I mentor the students through making games from my briefs, taking them all the way to an exhibition in a gallery.
Looking back over the year I have managed to keep active with my own creative pursuits despite working full-time. But I have found that when it comes to the intense production times, I can only work on one project at a time. That is why my Chrome App and card game went into the background at the end of the year.
Looking forward to 2015 I am excited about some releases and new commissions. Firstly, I will be releasing the Chrome App version of AUTHENTIC IN ALL CAPS which was funded with a multiplatform drama grant from Screen Australia. This was the format AUTHENTIC was always intended to be created in, and so I am pleased to have it out in the aesthetic form I envisioned. But importantly, I will also be releasing the code to make your own audio tour across the web. I hope others jump into developing this unique form.
I will also be releasing my card game DIY SPY School either through a publisher or print-on-demand. I haven't approached publishers yet, but I probably will once I have printed out the final(ish) version of the game. If the publishers take too long or are not interested, I will get it out there through a print-on-demand service. So it will definitely be romping through the world in 2015. I have a couple of game commissions, as well as my own major project. The latter I am doing a slow cook with, giving it time to really refine and find its sweet spot. So it may take a year or two. I don't mean that I will think about for 2 years. While I have been fortunate to be commissioned and given grants to create projects, the funds have been so small that I don't have room to really develop the project technically. I can and do develop before the prototypes and beyond. But there is never enough budget to make big changes. I want to be able to make big changes as I'm making it. I don't know how I will be able to make that happen, but I have a long-term plan. I also have a couple of book contributions coming out, and Lance and I will be running the next Forward Slash Story lab.
Indeed, I am very excited about this. Forward Slash Story will be held over 4 days in 2015, in Costa Rica. It is an amazing venue and will be an amazing time for curious creatives. We have some great applications that have come in already, and we will be extending the due date for submissions to ensure we catch even more. So make sure you get in your application by Jan 20th. It is an event designed for practising creatives in mind. It is for people who give a lot with presentations and mentoring duties themselves — it is a time for them to be fed by a great mix of peers. So get in there!
See you in 2015 🙂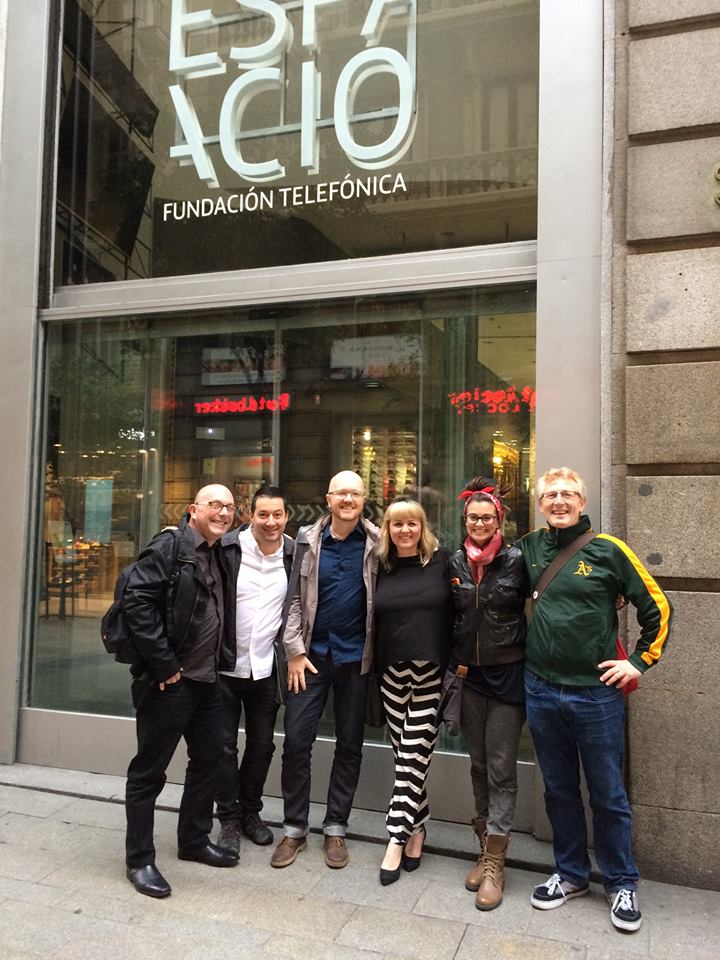 At Transmedia Living Lab, Madrid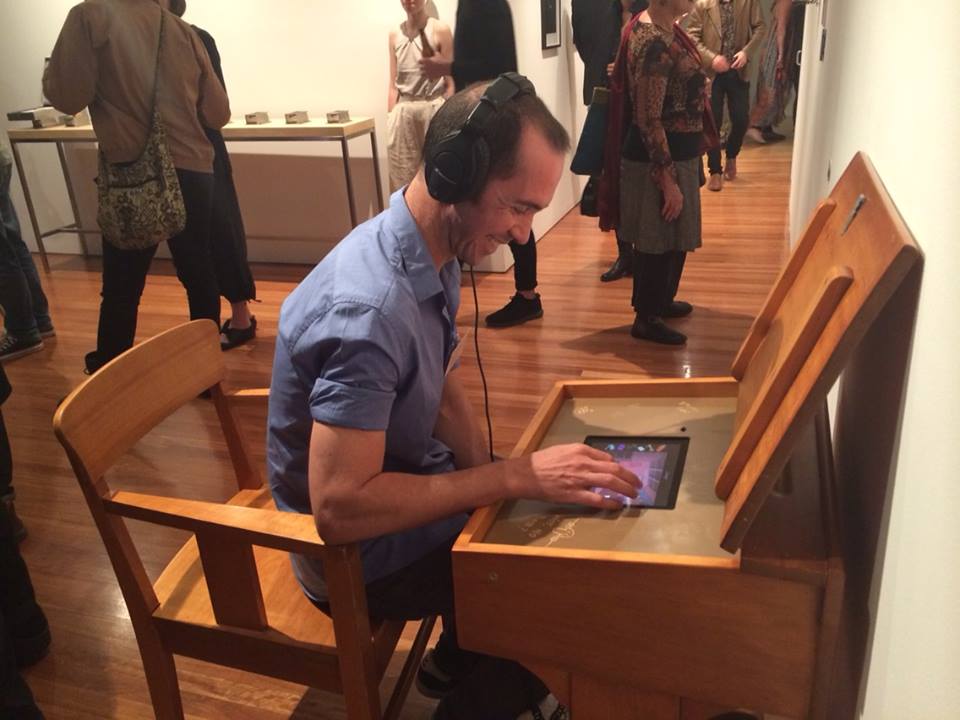 The launch of Magister Ludi at Experimenta's 2015 International Biennial of Media Art.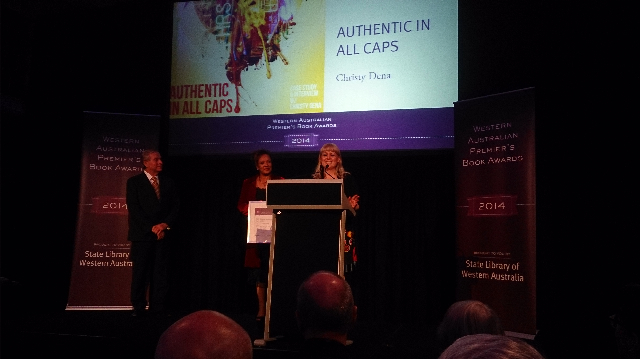 Receiving the award for 'Digital Narrative' category at the WA Premier's Book Awards.
Players ingame at MegaGame Brisbane's 'Watch the Skies'
The Routledge publication of my definition of 'transmedial fictions' in The Johns Hopkins Guide to Digital Media
Pop Up Playground playtesters of my physical game 'Seance for Lost Stuff', featured at the 2014 Fresh Air Festival
Shenanigans ambient party game board and accompanying prizes at the work Xmas party
Gallery exhibition of my studio student games
Participants at the 2014 Forward Slash Story lab in The Hamptons