Hello! I'm Christy Dena.
I'm in my mid-40s, and run my own studio Universe Creation 101, run international labs, and teach remote practice. I used to be a Chair and Department Coordinator of Games; producer of websites, CD-Roms, digital effects for TVCs; and actor in theatre and TV. I've moved back to Melbourne, Australia.
For years I've been making creative projects, researching, teaching, all to try and get better at making the kind of works that I want to make, that affect the world. I've always seen it as a marathon, as a long road. I wasn't after quick attention. I wanted to make works that resonate and I knew that took time.
To be honest, I've not just been waiting for myself, I've been waiting for the world. I don't seem to fit with "the way things are," and so I've been working on myself and with those around me, and waiting for some big event when we can all be who we really are.
But as the years have ticked along, I've realised that big day isn't going to happen. I need to step forward now in the midst of the seemingly everyday. Time to live my calling. Time to be all-in.
So how do I create the kinds of projects that go against "the way things are"? I have found and developed some ways.
I'm here to live my multi-artform creative life, with works that pave the way for new ways of thinking and seeing. That help create the next world.
I want to share what I've discovered with you too. So I'm writing a book, with accompanying design kit, I'm blogging, and starting up my newsletter again. Join me, I'd love to hear your thoughts.
Keep in touch with my Newsletter
Bios
Christy Dena, a writer-designer-director who has worked on award-winning interactive writing and transmedia projects. Christy is developing original projects in her company Universe Creation 101, running online interdisciplinary studios for a Masters of Creative Industries; co-runs with Lance Weiler an international lab for creatives working in the fringes called Forward Slash Story; and is running an Extended Experiences Lab for WEFF and Screen Queensland. Christy has worked in theatre, TV, CD-Roms, websites, animation, film, games and installations. Clients include Nokia, Cisco/No Mimes Media, ABC, Wieden+Kennedy, and Bangarra Dance Theatre. Christy has written a PhD on Transmedia Practice, and publishes non-fiction writing on interactivity, transmedia, the future, and intentional practice.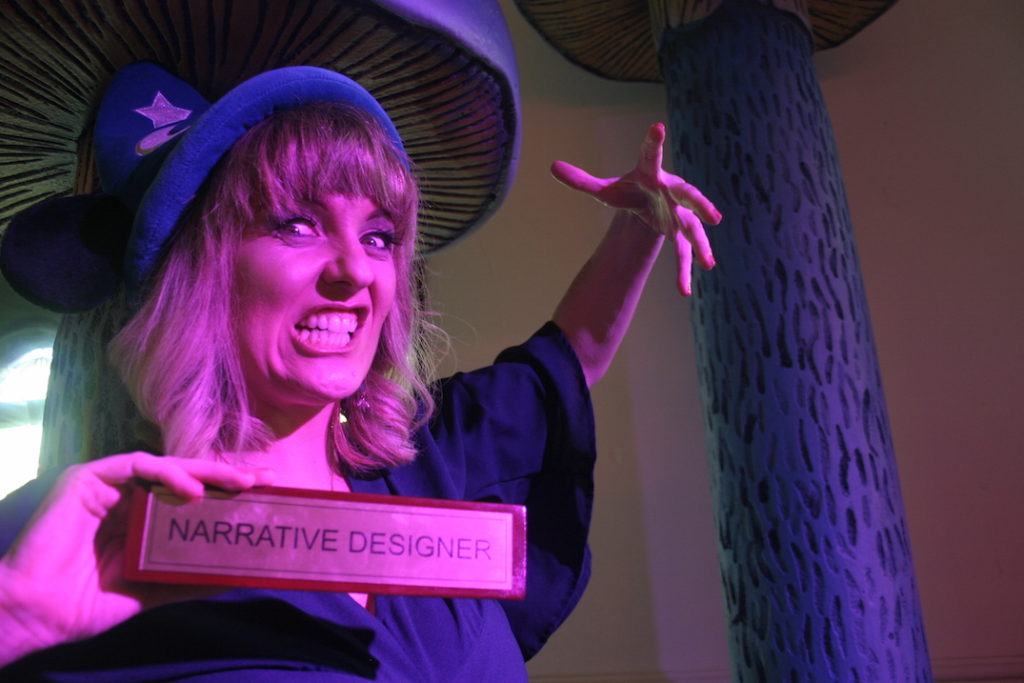 Christy was commissioned to create a game for Experimenta's 5th Biennial of Media Art: Recharge, which was Official Selection for Freeplay Independent Games Festival's 2014 event Parallels. Christy was granted Australia's first Digital Writing Residency at The Cube for her project "Robot University," funded by the Australia Council for the Arts and QUT. Her audio-driven app AUTHENTIC IN ALL CAPS won the 2014 WA Premier's Book Award in the Digital Narrative category; won the 2014 Australian Writers Guild award for 'Interactive Media'; was a prototype of the app was finalist for "Best Writing in a Game" Award at the 2012 Freeplay Independent Gaming Festival Awards. In 2012, she was the "Digital Writing Ambassador" for the Emerging Writers Festival; and she co-wrote "The Writers Guide to Making a Digital Living" for the Australian Literature Board; and toured Australia for the Australia Council for the Arts 'Story for the Future' initiative.
Christy has given keynotes and presentations at film, tech, writing, and gaming festivals worldwide, including Power to the Pixel (London), DIYDays (LA), TEDxTransmedia (Switzerland), and Transmedia Living lab (Madrid). She has mentored industry professionals around the world, including The Pixel Lab and Crossover; has written numerous articles on writing and design, and been published in numerous industry books. Christy was commissioned to run Transmedia Victoria, a key transmedia event in Melbourne bringing professionals from TV, film, performance, art, and gaming together.
Christy was National Chair and Brisbane Department Coordinator of Games at SAE Creative Media Institute; a Member of the International Academy of Television Arts and Sciences (Emmys);  Member of the Australian Writers' Guild; Board Member of the Entertainment Technology Press (ETC); and was Professor Adjunct at Creative Industries, QUT.
Email christy at this domain.