SELECTED PRODUCTION CREDITS

More information on creative projects at my company site: Universe Creation 101
IN DEVELOPMENT
(in dev), Spider & Fly
Logline: A blind spider and it's guide fly, team up to compete in a web art competition being held in the bucket at the back fence
Role: Writer-designer
Project: a short animated film and short videogame
Client: in partnership with a Sydney animation house
(in dev), Boss Bluff
Role: Writer-Designer
Project: A social party game inspired by Sopranos
(in dev), DIYSPY
Logline: You're training to be spies at an underfunded spy school, and so have to use objects from around your house to fulfil the missions
Role: Writer-Designer
Project: Pervasive party card game & remote play App
Artist: Goldie Bartlett
PUBLISHED
2017, A Thin Black Line
Role: Narrative Design consultant
Project: 12 minute animated VR documentary for SBS, Oculus
Client: VRTOV
2017, Caterpillar
Role: Writer
Project: An "8 Word Story" billboard competition by the Queensland Writers Centre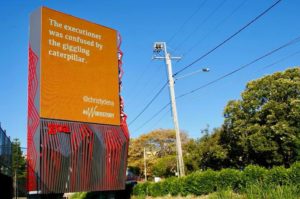 2015, Playing Kandanga 
Role: Writer-Designer-Director
Project: Playful App commissioned to guide people through the history of a regional Queensland town
Client: Creative Recovery Network (funded by Queensland Arts)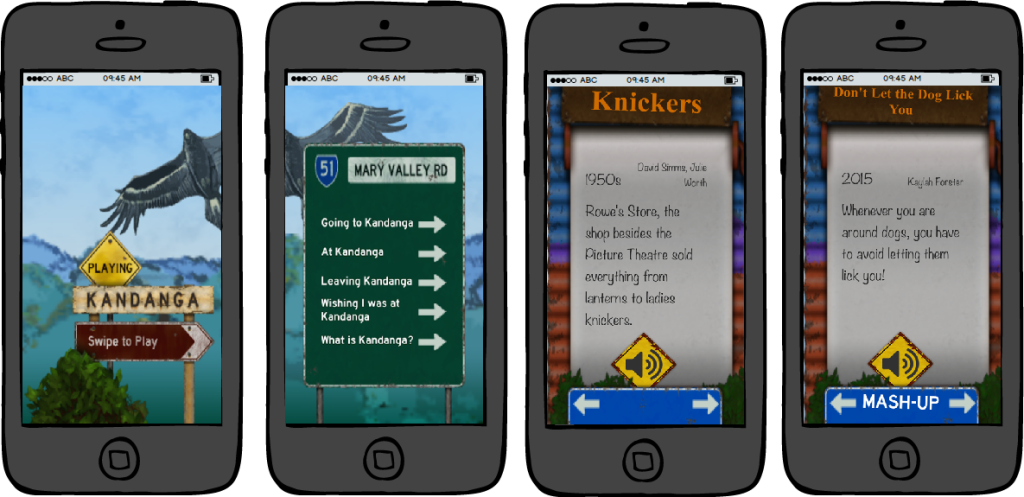 2015, Bakers of Anarchy 
Role: Writer-Designer-Director
Project: Live game
Client: Pop Up Playground's 2015 Fresh Air Festival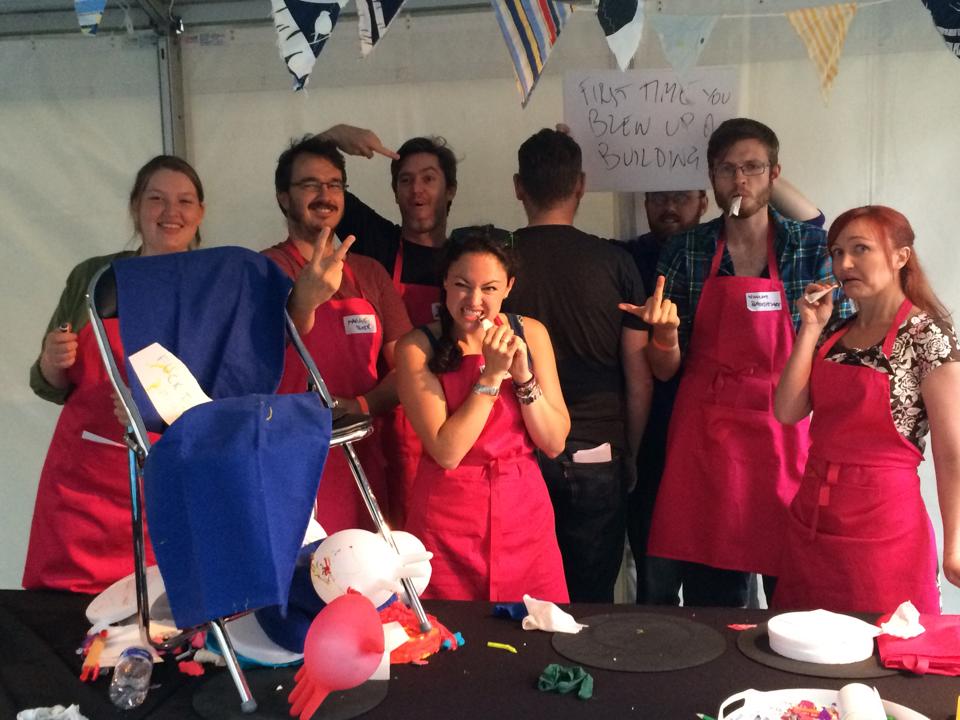 2014-2016, Magister Ludi
Role: Writer-Designer-Director
Project: Online digital game installation to tour Australia (and online)
Client: Commissioned for Experimenta's 6th International Biennial Media Art.
Artist: Goldie Bartlett; Sound Artist: Trevor Dikes; Programmer: Cameron Owen
2014, Shenanigans
Role: Designer
Project: Commissioned ambient party game for work Christmas party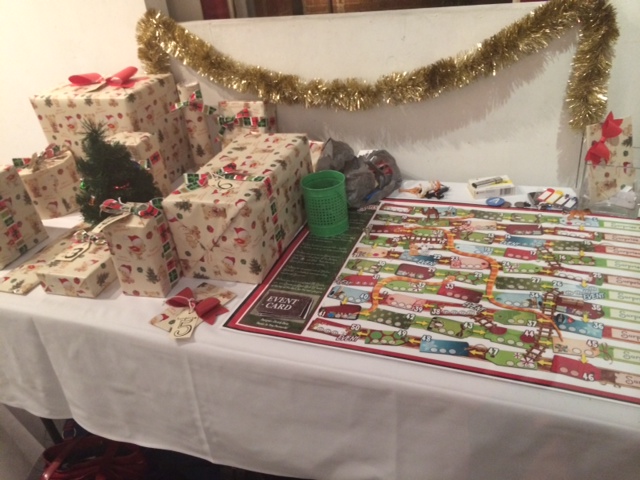 2014, Seance for Lost Stuff
Role: Writer-Designer
Project: Festival board game
Client: Popup Playground Festival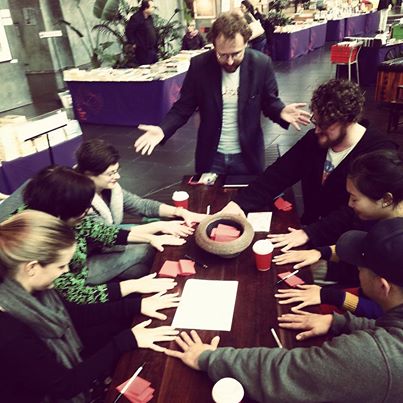 2014, Robot University
Role: Writer, Designer, Producer, Director
Project: 3D multi-touch and gesture-interaction installation at The Cube, QUT
Client: Australian Literature Board and QUT
2013, AUTHENTIC IN ALL CAPS
Role: Writer, Designer, Producer, Director
Project: web audio adventure
2013, Geminoid HI-4
Role: Scriptwriter
Project: Android speech to public
Client: Robotronica Event
2013, Deletions and Other Pleasures
Role: Writer-Designer
Project: Online Remix Story
Client: Deletion: The Online Forum in Science Fiction Studies
2013, Sharing Ink
Role: Writer-Designer
Project: Street guerilla kindness project
Client: Sayraphim Lothian
2013, Horas Perditam
Role: Online Live Writer
Project: Experimental narrative play, live and online
Client: Ken Eklund (WriterGuy – USA) and Annette Mees & John Gottschaulk (Coney – UK)
2013, Guardians of Hidden Universes
Role: Writer-Designer (Elroy = artwork, coding, interface design)
Project: Playful Street Story for the phone
Client: Popup Playground Festival
2012, The Book of Revelations
Role: Digital Creative Associate
Project: Theatre Performance, Digital Pre-Experience, Mailouts
Client: Alison Richards (Aus)
2012, Lycan (in dev)
Role: Multi-platform Narrative Design Consultant
Project: Feature film, Interactive Graphic Novel, Online Game, Website
Client: Instinct Entertainment (Aus)
2012, GrimeStoppers (in dev)
Role: Transmedia Narrative Design Consultant
Project: Serious Game, Live Events…
Client: Soapstream (Aus)
2010-12, As the Dust Settles
Role: Board Member
Project: Feature documentary
Client: Mike Hedge (USA)
2011, Hunter N Hornet
Role: Pitch & transmedia advisor
Project: Webisodes & App
Client: Sonny Vrebac (Aus)
2010, The Hunt
Role: Co-Experience Designer and Co-Game-Master
Project: Global alternate reality game (online, mobile, live action, live events) – 3 weeks
Client: No Mimes Media (USA) | Sponsor: Cisco (USA)
Articles: Wired
2010, Conspiracy for Good (summary video)
Role: Transmedia Analyst
Project: Global augmented reality drama (online, mobile, video, live events, billboards, newspapers) – 5 months+
Sponsor/Client: Nokia (Finland) | Production: Tim Kring (USA), The company P (Sweden/UK)
2010, Bluebird AR
Role: Transmedia Story & Game Advisor
Project: Alternate reality drama (online, mobile, live events, TV, radio, billboards) – 6 weeks
Client: ABC (Aus)
2010, Urban Codemakers
Role: Transmedia Story & Game Advisor
Project: Street and online game, using augmented reality
Client: Troy Innocent (Aus)
2010, Bangarra Dance Theatre Company
Role: Educator/Workshop Facilitator
Project: Transmedia Development Workshop
Client: Australia Council for the Arts (Aus)
2010, The Red Tail
Role: Transmedia Consultant
Project: Feature Documentary & live events
Client: Emergence Pictures (USA)
2010, Coldwar Clambake
Role: Transmedia Consultant
Project: Facebook game, with intended TV series
Client: Big Daddy's Chicks (USA)
2010, Awra Amba
Role: Transmedia Consultant
Project: Broadcast documentary series, interactive online documentary, online participatory experience
Client: Paulina Tervo, Write This Down (The Pixel Lab)
2010, Self Helpless 
Role: Transmedia Consultant
Project: Feature film
Client: End of the World Entertainment (USA)
2008, Love Referendum
Role: Co-Writer, Co-Game-Designer
Project: Pervasive Art – video clips, viral postcards, website, and a live event
Client: Tallstoreez Productions | Adelaide Fringe
2006, Hung-Long
Role: Writer, Designer, Game-Master
Project: Industry Training Alternate Reality Game – 2 weeks
Client: Australian Film, Television and Radio School
2006, Curse Cleanse
Role: Initial concept, writing, design
Project: Industry Training Alternate Reality Game – 3 hours
Client: Australian Film, Television and Radio School
2005, Time Splicer
Role: Concept, Writing, Design, Co-Game-Master
Project: Industry Training Alternate Reality Game – 3 hours
Client: Australian Film, Television and Radio School (for the ABC residential)
2005, The Legend of Amelia Rose
Role: Concept, Writing, Design, Co-Game-Master
Project: Industry Training Treasure-hunt – 3 hours
Client: Australian Film, Television and Radio School
2005 The Villager Girl and the Teenbot
Role: Writer, Programmer
Project: Transmedia short story told over print and a chatbot on the web. An early version of the story was presented as a reading at: the Talk Fiction Colloquium, University of Melbourne and the 2005 Age Melbourne Writers' Festival. An ealier version was selected for exhibition and discussion on panel 'Original Hypermedia, Net.Art, Mods, Flash', disjunctions 2005: Theory Reloaded , University of California, Riverside.
2005 Coma Clown
Role: Writer
Project: Short story for Muse: an anthology of postgraduate poetry & prose, Univeristy of Melbourne Postgraduate Association. Selected for reading at the launch and won 2nd Prize in Prose.
2002-3 Australian Book Review
Role: Editorial Assistant
Project: Literary Review Magazine
2002 – Fashion Police
Role: Performance Consultant (Dir/Prod: Daniel Laurence; Writer: Andrew Fenton)
Project: Short film screen at Revolver for the Melbourne Underground Film Festival (MUFF)
Client: Amanda Pettman
1999 Forsaken
Role: Performer (Dir/Writers: Tim Burgin and Luke O'Neill)
Project: Short Film screened at Edinburgh Film Festival, the UK premier of Praise and the Cafe Provincial Comedy Film Festival as part of the Melbourne Comedy Festival in 1999. In 2001 it was broadcast on the ABC.
Awards: It won the Special Jury Award in the Best Short Film category at the Altin Portakal Film International Film Festival – Antalya, Turkey in 1999. And in 2000, was Best Film at the Melbourne Fringe Festival.
1998-1999 Virgo Star Sign
Role: Model
Project: I was the Virgo star-sign girl for 'The Sunday Magazine' in the Herald Sun newspaper
Client: FRM Model Management
1998 Fuse
Role: Model
Project: Corporate Video for Cadbury
Client: FRM Model Management
1998 Dimmeys
Role: Model
Project: TV Commercial
Client: FRM Model Management
1998 Pilot Pens
Role: Model
Project: TV Commercial
Client: FRM Model Management
1998 Good Guys, Bad Guys
Role: Performer
Project: 'Elvis Lives' (s2, e8) of TV series by Beyond International for Channel 9
Client: FRM Model Management
1998 North Easter
Role: Performer (Dir/Writer: Adam McGee)
Project: Short film for TropFest, screened at Revolver in 1999
Client: Magoo Productions

1998 Wanton Soup
Role: Co-writer and Performer (Dir: Barbara Joseph)
Project: Comedy Performances at Melbourne Comedy Festival, Castlemaine Fringe Festival,
Client: Wanton Productions
1998 (Imagine If)
Role: Digital Producer and CGI Co-ordinator
Project: Television Series: Prophecies and Predictions – Film Montage, MM Communications, FMTV, Living together (pre-production), Fairies of the Enchanted Australian Bush (pre-production). Films: Neville the Devil – Purple Tree Films (pre-production). Television commercials for the follow brands: Raine and Horne, Living Together Foundation, Bar Asteroid, Australian Rugby Union, and Toyota. Corporate Videos for Raine and Horne, Sigma, Kodak, Amcal, and Digital Masters.
1997-1998 Christy's Happening Places
Role: Writer, Presenter
Project: Segment on Channel 31's Saturday night variety show 'Armstrong Live'
Client: Armstrong Productions
1997 Sorbent Silk
Project: Presenter
Project: Corporate CD-Rom
Client: FRM Model Management

1995-1997 (Planet X Studios)
Role: Digital Producer
Projects: Television commercials for the following brands: Uncle Toby's, Omo, Billabong, Crown Casino, Tattslotto, Dome Nightclub, Video Ezy, Telstra, Ego Pharmaceuticals, Goodyear, Reuters Indonesia, Ten Capital, Mars, McCain, Myer, Christian Television Association. TV Series: Kangaroo Palace for Artist Services, Net Effect (a pilot), Ocean Girl 4 for Johnathan M. Shiff Productions. CDROMs for Sorbent, Deeko, and Video Wave. Websites for FRM Model Management, New Magic, and Planet X Studios. Print for New Magic, Blades, and Dome Nightclub.
1995 Under Melbourne Tonight
Role: Co-Producer
Project: Channel 31 TV show
Client: RMITV
1995 Wanton Soup
Role: Co-writer and Performer (Dir: Barbara Joseph)
Project: Comedy Performance at 'Body Unlimited Benefit', Metro Niteclub
Client: Wanton Productions
1995 Constructed Object
Role: Co-writer (Dir: Jo Stanley and Keira Lyons)
Project: Performance at Monash Festival of Student Theatre
Client: Stanley and Lyons
1994 Suspended Extended
Role: Co-writer and Performer (Dir: Margaret Bearman)
Project: Comedy Performance at The Courthouse, Carlton
Client: Suspended
1994 Salome
Role: Multimedia Consultant
Project: Multimedia Performance
Client: Jo Stanely (dir)
1994 God, the Doctor, and the Impossible Body
Role: Slide projections
Project: Multimedia Performance for the Monash Women's Performance Season
Client: Kim Berry (dir)
1994 Time Out
Role: Co-writer and Performer (Dir: Kit McMahon)
Project: Performance, toured the Festival of Australasian Theatre
Client: Monash Student Theatre
1993 HeSheIt
Role: Concept, Producer, Director
Project: Multimedia Performance
Client: Monash Student Theatre
1993 (various sketches)
Role: Co-writer and Performer
Project: Sketch Comedy at Cafe Yartz for the Voices of Dissent Festival
Client: Voices of Dissent Festival
1993 Status Quash
Role: Co-writer and Performer
Project: Sketch Comedy at the Voices of Dissent Festival, Brunswick Mechanics Institute
Client: Voices of Dissent Festival
1993 A Dicken's Christmas
Role: Director's Secondment (Dir: William Gluth, Writer: Barry Dickens)
Project: Comedy Performance at the Malthouse Theatre for the Playbox Theatre Company
Client: Monash Student Theatre
1992 Suspended
Role: Co-writer and Performer (Dir: Felicity Kaemevar)
Project: Sketch Comedy that toured around Australia
Client: Monash Student Theatre
1992 Destiny Unknown
Role: Writer, Animator (claymation), Director
Project: Short animation for the White Gloves Festival – interviewed on SBS' Eat Carpet
1992 Growth; Mother; The Gap
Role: Poet
Project: Various poems for  Judy's Punch magazine, University of Melbourne
1991 Cyberbia
Role: Performer (Dir: Scott Felstead)
Project: Comedy Performance
Client: Monash Student Theatre